This site is dedicated to the memory of Dave Buschow. In 2006, he died of dehydration while participating in an outdoor survival program.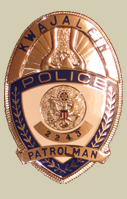 Although his physical being may not be with us, his spirit lives on in the memory of everyone he touched. his passion for life was always evident in the way he surrounded himself with family and friends. Dave's last assignment was a military police officer in the Marshall Islands. Upon hearing of his untimely passing, the base created a shadow box in his honor. Click here to see it. To view some of his other accomplishments, click here.
Dave had an incredible base of friends and family. So as much as this site was built to honor his life, it also serves an outlet for all of us to share feelings and thoughts about an amazing individual. Dave touched so many lives. He will never be forgotten.